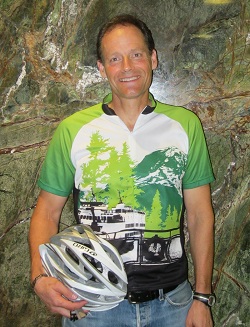 Farallon's Going Greener campaign continues in full swing after being formally unveiled in January 2012 complete with a new Going Greener logo. A new green work environment theme was featured each month during 2012, and measurable improvements have been identified on several fronts. January's Reduce Electricity Use theme included installation of motion-sensor light switches in the Issaquah office storage and rest rooms, and employees were urged to turn off office electronics when not in use. Those initial efforts have resulted in an average monthly reduction in electricity use of 22 kilowatts an hour since January 2012.
Reducing Paper Use was February's theme, which was accomplished by instituting double-sided printing, recycling junk mail, and reusing paper. In preparation for the summer gardening season, Composting was the March focus, with all Farallon offices participating. A total of 150 pounds of compost material has been kept out of landfills to date, and the composting effort remains in progress. April's theme combined Earth Day with Arbor Day in a tree-planting contest among employees. A total of 16 trees and shrubs were planted by 7 employees.
Green Transportation took the spotlight in May, as employees were challenged to replace their usual solo drive with an alternative green means such as mass transit, carpooling, biking, or walking. For that month's competition, Farallon employees earned points for miles of green transportation traveled. An impressive 665 miles biked, walked, or scootered to work was recorded, saving approximately 40 gallons of gasoline. During June, the emphasis was on recycling electronics and appliances. A company total of 55 computer towers, monitors, laptops, keyboards, mice, cameras, televisions, phones, and other devices and appliances were turned in for recycling. As part of July's Reduce Water Use theme, employees were reminded of ways to cut back on water use at home and in the office.
The green theme has led to the introduction of new procedures to make almost-paperless invoicing and reporting the company-wide practice. The new system is welcomed by clients requesting the transition, and has already proved to be a time- and cost-saver for Farallon. The Going Greener campaign finished strong in 2012 as Farallon employees volunteered for an EarthCorps event to remove invasive plant species from Watershed Park in Kirkland, Washington.
New greener-environment efforts were initiated in 2013. During May's Bike to Work month, Farallon participated in the Cascade Bicycle Club's annual Commute Challenge. The four Farallon participants logged a total of 42 trips tallying 501.5 miles biked during May, the equivalent of biking to work almost 40 percent of the time. Farallon was joined by 12,955 other bikers throughout the Puget Sound area who together saved over 1.65 million pounds of carbon dioxide. Also underway in 2013 are plans to install a bike shed at the Farallon Issaquah office in support of the growing number of employees who bike to work. Another project Farallon has slated for 2013 is coordinating a road cleanup near the Issaquah office.
All of these individual steps consistently taken are making a positive contribution at the Farallon offices and a long-term impact on the environment.